Vervet Dance is embarking on our most ambitious project ever! We are making art ALL DAY!
Save-the-Dates:
Sunday, March 25
Saturday, June 16
Saturday, September 15
"In the LIght" by Vervet Dance is a semi-composed durational music and dance performance, solely lit by the sun. The audience is invited to come and go anytime between sunrise and sunset. There will be breakfast, Lunch, and dinner available with advance purchase tickets. Performance only tickets will be available at the door.
invite your friends at
https://www.facebook.com/events/1989961611225081/
Reserve your Spring tickets at
https://www.artful.ly/vervetdance/store/events/14756
The Spring iteration of "In the Light" is Sunday, March 25, 2018 6:55am-7-17pm
at Mascher Space Cooperative at 155 Cecil B. Moore Ave.
Philadelphia, PA 19122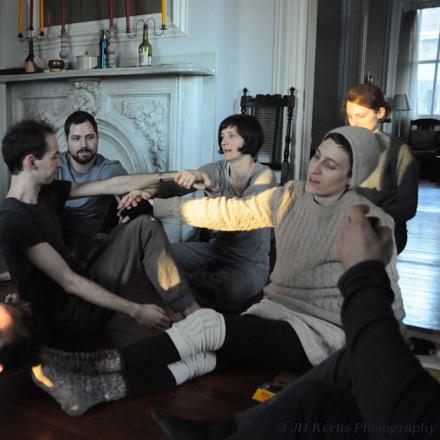 Photo is by JH Kertis of Vervet Dance's "In the Light" from Winter 2018 on January 13 at Rigby Mansion in Germantown, Philadelphia.
This work was directed by Loren Groenendaal. Pictured here left to right are artists Sean Thomas Boyt, Andy Theirauf, Katherine Kiefer Strk, Erica Corbo, and Jenny Roe Sawyer.
If you can't attend this show, we would still love your support!
Please make a secure tax deductible donation to support Vervet Dance through Fractured Atlas.